Help Your Team Know What It Means To Be A
LEAD WORSHIPER
This special price ends in...
If You're Facing Any of These Challenges With Your Team...
They Just Don't Get It

Maybe you've got team of solid musicians, but they just don't understand their biblical role as lead worshipers.

They're Spiritually Unprepared

Maybe you see that too many of your team members come in spiritually unprepared to lead others in worship.

They're NOT Expressive

You probably have some team members who are always staring at their music stand, or they just don't show any expression.

They Think It's ALL About The Music

You likely have team members who think worship is all about the music. Or it's all about how they feel during the worship service.
What You Get With This Course
On-Demand Training Videos
This course is done-for-you training. Five on-demand videos will help your team journey towards a deeper understanding of what it means to be lead worshipers.
For information to become transformation, there needs to be CONVERSATION. The Leader's Guide has questions to help your team process and discuss the training.
These printable or digital handouts will help your team engaged during the training AND be easy to reference and review long after the training is completed.  
Why do you want the slide deck? There are key principles in this course that you'll want to revisit with your team over and over. You can use the slide graphics to easily teach and remind your team.
Buying a training course is easy. Actually using that course to transform your team is TOUGH. That's why we've included implementation tips and strategies for leaders.
(seriously...what's wrong with it?)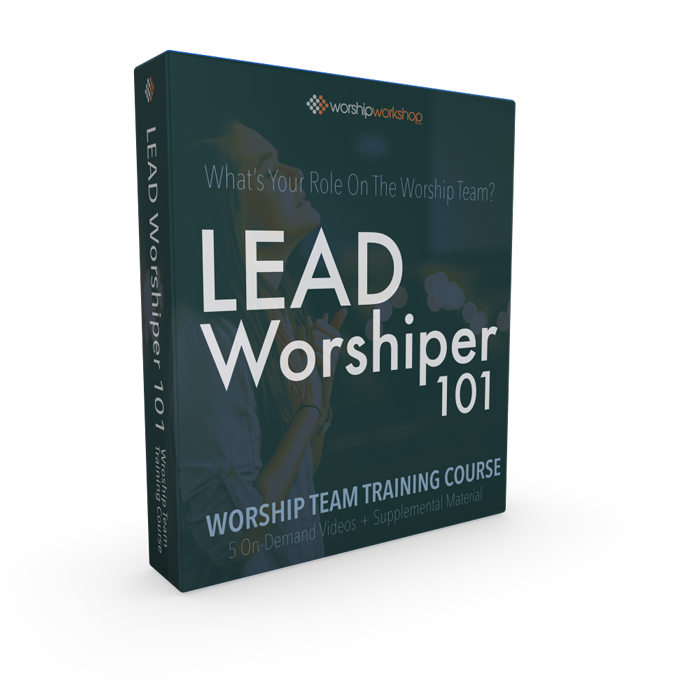 The Lead Worshiper 101 Course is...
A full and complete training—not a teaser product.
The same exact training we use inside our premium training site, WorshipWorkshop.com.
Not available outside of Worship Workshop, other than through this special.
A $97 value if sold as a standalone product.
So why the low price? We wanted to give you a big taste of what's inside of Worship Workshop AND help you train your team at the same time.
For whatever reason, if you find you don't like this course, we'll refund your money.