Worship Workshop was born out of a problem...
Sunday arrives every week whether worship leaders are ready or not. (Something you already know.) It's that whole tyranny of the urgent thing. You have to be ready for "this Sunday" every week:
Plan set lists...prep the charts...schedule the team...rehearse the band...practice the songs...and on and on, week after week.
You know the drill.
For the most part, you love doing it—it's a huge part of being a worship leader.
But the big problem is this: because of the urgency of "every" Sunday, you don't have enough time to develop your team members intentionally and consistently.
And often, part of the problem of not having time to develop and train our team members is that you're leading the worship ministry alone.
There might be others who help out or can lead worship when you're not there. But chances are, you don't have a strong team to help you lead the ministry.
(Click Read More to learn how we can help with this...)
So that's why we developed Worship Workshop. We want to help leaders like you consistently and intentionally train their team members in three crucial areas:
Musical/Technical Skill
Spiritual Maturity
Relational Health
And we aren't helping you develop them to merely be great team members (although they will be).
We want to help you raise up a leadership team to help do the work of ministry. (See Ephesians 4:11-12)
Our purpose is to assist you in transforming your team members into team leaders, mentors and role models.
Here's how Worship Workshop works:
1. You enroll your team (big or small) in Worship Workshop.
You enroll at a level that fits your team and budget. Each of your team members will have their own unique log-in and progress tracking.
2. They work through the Equipping Paths.
Each of your team members works at their own pace through four Equipping Paths.
In those pathways, they'll move from new (or nominally committed) team members to being fully engaged, healthy team members who can lead and influence others. (Learn more about this process.)
3. We help you hold them accountable.
Through emails and progress tracking, we help you keep them accountable along the way—so you're not spending your time babysitting and hand holding.
4. They'll continue to deepen their skills as musicians and techs.
We have an ever-growing library of skill-based training for them to continue growing as musicians, worshipers, and healthy team members.
5. They'll grow towards leadership and influence.
As they progress, they'll be equipped to influence other team members through mentor and leadership roles. You'll be able to build a leadership team with equipped people who understand the vision.
Who's behind WW
Jon Nicol is a worship pastor, author, and teacher who has been training worship leaders and teams for the last decade. He created WorshipTeamCoach.com to give practical resources to worship leaders and teams.
While WorshipTeamCoach.com continues to provide practical help for worship ministries, Jon wanted a site that would train individual team members and raise them up to be leaders.
Why?
Because Jon has the same problem you do: not enough time to train and develop his team members.
If you want to learn more (than you ever wanted to know) about Jon, check out this page on WorshipTeamCoach.com
Train Your Team Now
Start Your Team's Journey With This Free Class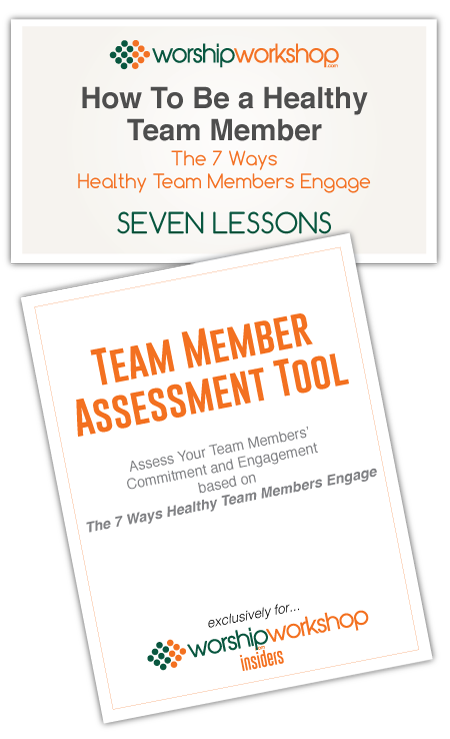 FREE TRAINING CLASS + ASSESSMENT
Begin developing your team members with this complimentary class from our Begin Path: How To Be A Healthy Team Member. 
PLUS you'll get the companion team member assessment tool. You can use this tool NOW to get your team ready to grow and develop inside of Worship Workshop.
To get the class and assessment, complete this short form.